Where to park in Brighton
Brighton is one of the cities where your own transport is not really good idea because of parking issues. If can choose, it is better to use public transport. If you decide to travel to Brighton by your car there are still options where you can leave your car. Just make sure you will park very soon in the day as looking for parking space is not easy in Brighton.
Free parking in Brighton
First and the best idea is park in Multi Story Car Park in Brighton Marina, which is FREE. There is available 1500+ parking spaces for up to 4 hours. If you have bigger car you can park in opposite FREE Asda car park, which is for customers only, but you can still park there whatever you buy or don't buy anything. Depends on how far you are willing to go, there is as well free parking on Preston Drove next to Preston Park. There is couple of streets where parking is free on Sunday for example Elder Place. Here you can find more info about free parking in Brighton.

City College has a £5.00 flat fee to use their car park on Saturdays and Sundays. The access to the car park is from Whitecross Street. Another option is Churchill Square parking or NCP car parks – Brighton Theatre Multi storey car park, North Road Multi storey car park and Russell Road Multi storey car park. They are open 24 hours with price starting on £1 for 1 hour. There is a lot of pay and display car parking spaces across the city with price range from around £1 for 1 hour up to £25 for 24 hours. On some there are height restrictions.

It is not easy, but with a little bit of luck you will find some place to park.
Most popular searches for this post about Brighton:
free parking brighton
parking in brighton
brighton free parking
free parking brighton sunday
best place to park in brighton
sunday parking brighton
parking in brighton on a sunday
where to park in brighton
cheap parking in brighton
London to Brighton Veteran Car Run 2011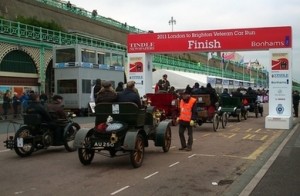 This year it was the 115th anniversary of veteran car run. The first modern rally took place in 1927. On Sunday 6 of November 2011 pasionate drivers where making challenging historis journey from London to Brighton. They were starting in London's Hyde Park just after 7:00 in the morning driving around 60 miles to finishing line in Brighton's Madeira Drive. More than 500 vintage cars took part in the 78th London to Brighton Veteran Car Run.
This rally is not a race and is described by organisers the Royal Automobile Club as "an endurance of man and machine". A lot of drivers came from abroad, including competitors from America, Australia and China. This year was as well celebration of the 125th anniversary of Mercedes-Benz. Matt Roberts with his the 1897 Marot Gardon Tricycle was the first to arrive in Brighton an impressive 3 hours and 25 minutes after leaving Hyde Park in the first sector group. It was such an amazing to see all 'competitors' dressed up in old style clothes exactly matching their cars.
Centre for venues
Boasting 3500m squared of exhibition space, The Brighton Centre is one of the area's largest, purpose-built conference and exhibition facilities. There is capacity of 5100 people on standing concerts and 4500 for conferences. It also has smaller rooms for weddings and banquets. The Centre is also known for regularly hosting conferences of the major British political parties.
The venue also holds all sorts of different conferences, meetings and exhibitions. It is located right on the seafront.  With the huge capacity, The Brighton Centre continues to be one of the country's preferred venues  which hosts a wide variety of business conferences, entertainment and sport events, regular records & comics sale, concerts. Many of the biggest names in entertainment, comedy, music and dance have already performed or are slated to appear in the near future, at The Brighton Centre.
Contact details:
Kings Road
Brighton
BN1 2GR
01273 290 131
Box Office: 0844 847 1515
The Brighton Centre Box Office is open from 10:00-17:30 from Monday to Saturday. When there is an event taking place in the venue, the Box Office will be open from 10:00 to approximately 21:00.
Building is currently under reconstruction but is open as usual.