Churchill Square Shopping centre – general info
Brighton is truly retail paradise for all shopping lovers.  There is a lot of shops across the city, along seafront and in small hidden streets but one of the most visited place in Brighton is Churchill Square Shopping Centre. This shopping centre is located just 5 minutes from the beach and about 15 minutes from Brighton train station.  You can find there about 90 different shops, cafes and restaurants. It is open 7 days a week.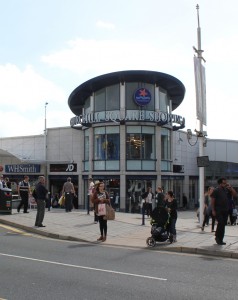 Opening hours:
Monday 9am-6pm
Tuesday 9am-6pm
Wednesday 9am-6pm
Thursday 9am-8pm
Friday 9am-7pm
Saturday 9am-7pm
Sunday 11am-5pm
Bank holiday 10am-5pm
Churchill Square is full of wide range of High Street names and  boutiques, which offer the best fashion shopping.  There is a parking available 24 hours a day for about 1600 cars.
Parking rates:
Up to 2 hours: £2.20
2 – 3 hours: £3.20
3 – 4 hours: £4.20
4 – 6 hours: £5.80
6 – 8 hours: £8.50
8 – 12 hours: £14.00
12 – 24 hours: £25.00
Every Wednesday there is a Farmer´s market outside shopping centre, which is full of stalls with variety of  lovely food. There is as well a lot of events and promotions at Churchill Square.  You can spend in this shopping centre hours and hours. If you are true shopping lover this is the right place for you.
To be continued…
Most popular searches for this post about Brighton:
churchill square christmas opening times
churchill square easter opening times
churchill square
churchill square christmas opening hours
churchill square brighton christmas opening times
churchill square boxing day opening times
churchill square opening times christmas
churchill square brighton
churchill square christmas opening times brighton
churchill square bank holiday opening times