Warning
: Undefined variable $toReturn in
/home/qucoco/public_html/www.brightoner.co.uk/wp-content/plugins/searchterms-tagging-2/searchterms-tagging2.php
on line
1004
Churchill Square Shopping centre – general info
Brighton is truly a retail paradise for all shopping lovers.  There are a lot of shops across the city, along seafront and in small hidden streets but one of the most visited place in Brighton is Churchill Square Shopping Centre. This shopping centre is located just 5 minutes from the beach and about 15 minutes from Brighton train station.  You can find there about 90 different shops, cafés and restaurants. It is open 7 days a week.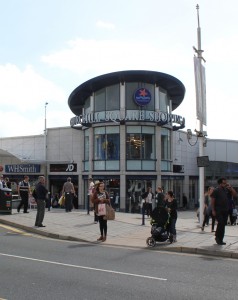 Opening hours:
Monday 9am-6pm
Tuesday 9am-6pm
Wednesday 9am-6pm
Thursday 9am-8pm
Friday 9am-7pm
Saturday 9am-7pm
Sunday 11am-5pm
Bank holiday 10am-5pm
Churchill Square is full of a wide range of High Street names and  boutiques, which offer the best fashion shopping.  There is a parking available 24 hours a day for about 1600 cars.
Parking rates:
Up to 2 hours: £2.20
2 – 3 hours: £3.20
3 – 4 hours: £4.20
4 – 6 hours: £5.80
6 – 8 hours: £8.50
8 – 12 hours: £14.00
12 – 24 hours: £25.00
Every Wednesday, there is a Farmer´s market outside the shopping centre, which is full of stalls with a variety of lovely food. There is as well a lot of events and promotions at Churchill Square.  You can spend in this shopping centre hours and hours. If you are a true shopping lover, this is the right place for you.
Here are some more things you can see within walking distance of the shopping centre:
Royal Pavilion

: This gem is located just a few blocks from the shopping centre. It's a must-see if you're visiting Brighton.

North Laine: This area is known for its Bohemian vibe and independent shops selling everything from vintage clothing to handmade crafts.

St. Peter's Church: This historic church is located near the North Laine and dates back to the 19th century. It has beautiful stained-glass windows and an impressive clock tower.

Brighton Dome: Located next to the Royal Pavilion, this venue hosts concerts, theatre performances, and other cultural events throughout the year.

The Open Market: A bustling indoor market featuring stalls selling fresh produce, jewellery, books, music and much more.
Most popular searches for this post about Brighton:
churchill square christmas opening times
churchill square easter opening times
churchill square
churchill square christmas opening hours
churchill square brighton christmas opening times
churchill square boxing day opening times
churchill square opening times christmas
churchill square brighton
churchill square christmas opening times brighton
churchill square bank holiday opening times