London to Brighton Veteran Car Run 2011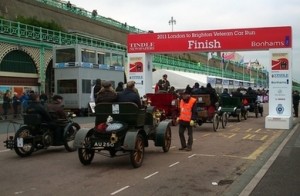 This year it was the 115th anniversary of veteran car run. The first modern rally took place in 1927. On Sunday 6 of November 2011 pasionate drivers where making challenging historis journey from London to Brighton. They were starting in London's Hyde Park just after 7:00 in the morning driving around 60 miles to finishing line in Brighton's Madeira Drive. More than 500 vintage cars took part in the 78th London to Brighton Veteran Car Run.
This rally is not a race and is described by organisers the Royal Automobile Club as "an endurance of man and machine". A lot of drivers came from abroad, including competitors from America, Australia and China. This year was as well celebration of the 125th anniversary of Mercedes-Benz. Matt Roberts with his the 1897 Marot Gardon Tricycle was the first to arrive in Brighton an impressive 3 hours and 25 minutes after leaving Hyde Park in the first sector group. It was such an amazing to see all 'competitors' dressed up in old style clothes exactly matching their cars.